See Breeze Optical can provide almost any of the 116,000 different frames available in the United States for a fair market price over their actual cost.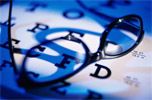 We do not mark up prices just to mark them down again. We offer fair, money-saving prices directly to the consumer. Savings through us are as much as $150 or more on prescription eyewear and many designer sunglass lines.
See Breeze Optical also supplies prescription lenses -- at about half the price you would pay at most retail optical chains. We use no gimmicks or "add-ons," just what is best for you at the best possible price.